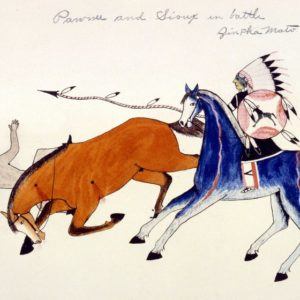 World Art Day is an international celebration of the fine arts, which the International Association of Art declared to promote awareness of creative activity worldwide. It is celebrated on April 15th, the birthday of Leonardo da Vinci.
Native American art in Minnesota can be explored and appreciated in many ways. The Chippewa, Ojibwe, and Sioux nations living in Minnesota now have produced musicians, traditional craftspeople, and contemporary visual artists whose work is displayed throughout the state. To discover and learn about Native American artwork, consider attending a powwow, visiting galleries or casinos, or spending some time in museums. Click for four steps for exploring American Indian art in Minnesota.
STEP 1
Visit art galleries that specialize in Native American art. In the Twin Cities, Ancient Traders, Tom Buckley's, and Two Rivers show art by native artists. In Calloway, the Anishinaabe Center markets work by native artists, and in Grand Portage, Marcie McIntire shows her work and that of other local native artists at her gallery.
STEP 2
Explore Minnesota museums with Native American art. Try the Plains Museum in Fargo, the Tweed Museum of Art at the University of Minnesota in Duluth, and the Weisman at the University of Minnesota in the Twin Cities, each displaying native art in their permanent collections as rotating exhibitions.
STEP 3
Go to a casino. The Mahnomen Shooting Star Casino on the White Earth Reservation carries original works of locals' art in its gift shop. At the same time, the Mille Lacs Band of Ojibwe hangs artwork by native artists in its casinos and casino hotels.
STEP 4
Attend a PowWow. Hear the music, see the dances and learn about the beading and other traditional techniques unique to the Minnesota Native American nations. Traditional art — music, dance, and visual arts — was practical and used in ceremonies, celebrations, and crafting. Going to a PowWow is one way to get close to these arts and meet the artists who carry on their group's traditions. DrumHop.com and 500Nations.com have current listings of PowWows in Minnesota, or you can contact the Native American Center of Southeast Minnesota or individual tribes' or bands' community outreach programs for more information.
Source: USA Today Trip Tip Author: Leaf Group Link: https://conta.cc/3jGzScT