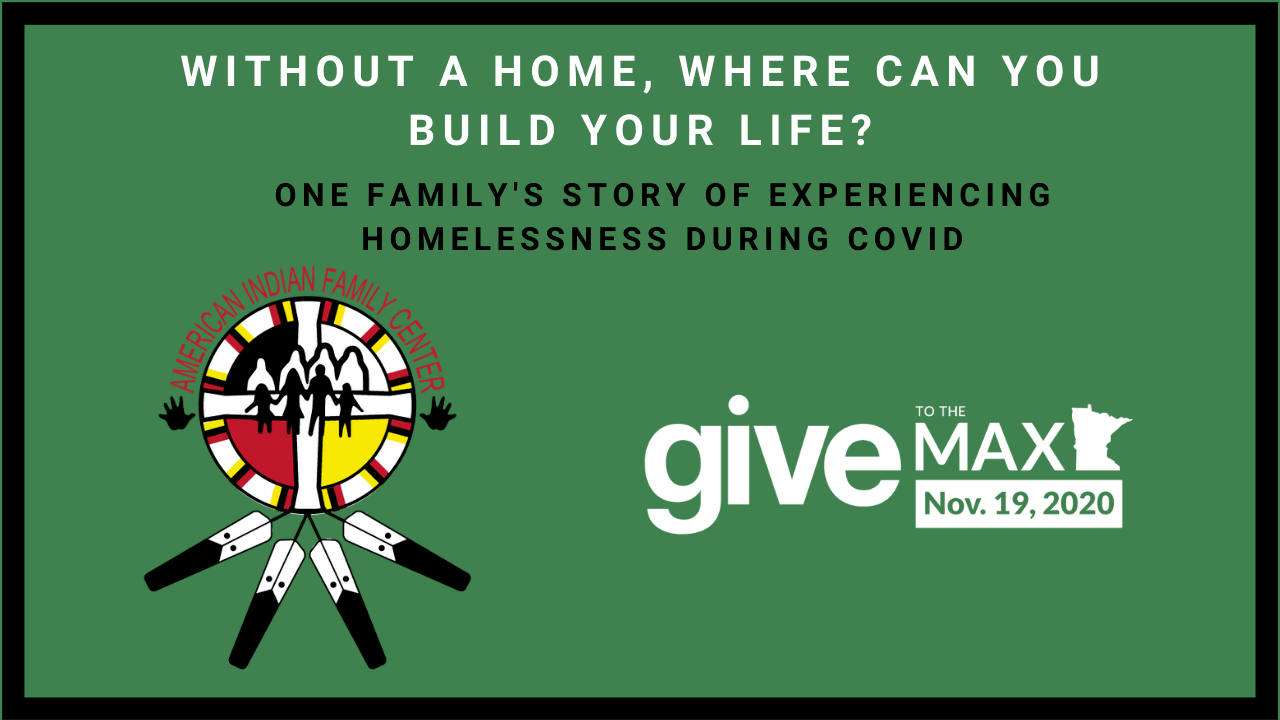 Without a home, where can you plan for your future?
"Around February 2020 is when it all 'seemed' to be getting better. I just got hired to work at [the casino on the reservation]. Since the boys were out of school due to Covid-19, we were able to stay with my 70 year old grandma.
We were temporarily living with her while I tried to save money to get a new place to live…I worked there over a month before Covid-19 shut down the small town and Indian reservation we lived on, including my job. Now I'm back at square one just waiting around.
I had two choices, sit in the middle of nowhere, literally, unemployed and still homeless?! Or take a huge risk and go back to the Cities and make the best of it, for my boys. So that's what I did."
Without a home, where can you stay safe?
"By April 2020, I packed up a few duffel bags of clothes, left the reservation and ventured off to Saint Paul. Once we got to the Cities, we stayed in many hotels, a few days at my mom's or other relatives' houses, anywhere that I knew we would be safe, could shower, eat, and do online school work for the boys. After staying in hotels for so long, it got very expensive very quick and started not to get any easier, but much harder.
So I started to do a lot of research and reach out to anyone and everyone so I could try to get any help that I could. I remember I was on the phone for hours and days trying to get things figured out…It's very hard being a single mother, but I am very determined and will do whatever I have to in order to keep my boys in a safe and stable environment."
Without a home, where can you learn?
"After calling what seemed like 100 different places to try and find help, I found some help. I ended up at a place that I had never heard of before, Mary's Place in Minneapolis. I was always extremely iffy about staying in shelters with my two sons, but we did what we had to do…Mary's Place was such a blessing overall…I decided we needed to move into a place by the end of summer. I got another job and before you know it, finally got approved to move into a two bedroom apartment! I was so happy and still am, even after all of the application fees and denials I am still so grateful because through all the hard times and struggles I did not give up, even when I wanted to so badly, I still wanted and needed the best for my sons even more than ever.
We finally moved into our home October 1, 2020."
Without a home, where can you grow?
"One agency in particular who has helped support us in many different ways throughout the struggle was the American Indian Family Center. I have only spoken with [Housing Stability Specialist] Desiree over the phone due to Covid-19 regulations, but she has been so supportive and helpful to me and my family.
One of my biggest supporters and I am truly thankful for all the emotional support and financial support and all of the help that we have received from her and the [AIFC]. Such a blessing.
My name is [J.B.] and I was born and raised in Minneapolis and St. Paul, Minnesota. I am a 29-year-old single mother currently working two jobs to support my two sons who are 11 and 5 years old, and that was our story."
A Note from AIFC Housing Stability Specialist Desiree Clater
Through our AIFC Housing Stability Services, we were able to help this family move into their new home by providing financial support, guidance through the application process and assisting with communication between her and her landlord. Our services don't just help American Indian families get caught up on rent and utilities, we can help families and individuals navigate the overwhelming task of getting into new housing. We can be a point of contact between them and their landlords, share the workload of looking for a new place and coach them on how to talk to potential landlords. With the housing challenges due to Covid-19, providing education on budgeting, renter's rights and housing searches has been crucial to helping families become successful renters and stay in their homes.