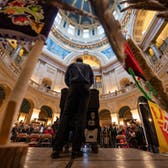 WE NEED YOU: We've Rallied. Now What?
~ Writer Jessie Van Berkel contributed to this report. Source: Randy Furst Star Tribune MARCH 25, 2022 — 6:27 PM
The proposal is called "Clyde Bellecourt Urban Indigenous Legacy Initiative," named after the co-founder of the American Indian Movement who died in January. Bellecourt helped found several of the 16 Twin Cities Native American organizations sponsoring the initiative.
The rally began with Native Americans gathering around the "Midnight Express" drumming band, seated on the steps outside the Capitol, singing powwow songs. The main drummer was Crow Bellecourt, one of Clyde's sons.
"We operate in buildings run down, dilapidated, and deteriorate quite rapidly," Hobot told the House Capital Investment Committee. For example, his American Indian OIC (AIOIC) is in a warehouse built in the 1930s where telephone directories were once stored.
Mary LaGarde, executive director of the Minneapolis American Indian Center on Franklin Ave., which is also included in the funding request, said at a press conference before the rally that the center is putting buckets inside the building because of a leaky roof. "If you've ever been in our building when it's raining, bring an umbrella," she said.
At the American Indian Family Center in St. Paul, another facility seeking funding, ceiling tiles are falling, and there is a hole in the floor, said Sharyl Whitehawk, a counselor at the Khunsi Onikan Outpatient Treatment Program for American Indian Women.
Funding for the 12 projects could be included in an infrastructure package that heads of state hope to deliver this session.
While the money would pay for Twin Cities projects, the funding would also help out-of-town tribal members, such as those who take job training under his program and then return to their home areas, a Hobot said.
Proponents of the projects note that their push comes when unemployment among Native Americans remains high, with a disproportionate number of homeless people and the highest COVID-19 death rate among ethnic groups.
Rather than squabbling over funds, Hobot said the 16 Indigenous organizations united around a single proposal to fund 12 projects:
Minneapolis American Indian Center: $5 million to renovate and expand the facility to include a theater and a small cafe and programs.
MIGIZI: $4.4 million for a new communications facility on E. Lake St. in Minneapolis.
Indigenous Peoples Task Force: $2.5 million to acquire land and build a new one-stop center in the Phillips neighborhood of Minneapolis.
Ain Dah Yung Center: $2.2 million to improve existing facilities, including the emergency shelter on Portland Av. in St. Paul and the Beverly A. Benjamin Youth Lodge on Raymond Ave. in St. Paul for an emergency shelter, transitional housing, and outreach services.
Lower Phalen Creek Project: $1.4 million for constructing the Wakan Tipi Center at the Bruce Vento Nature Sanctuary in St. Paul.
Native American Community Clinic: $12 million to build a new facility and provide affordable and respite housing on E. Franklin Ave. in Minneapolis.
Little Earth of United Tribes: $2.2 million to renovate and repair housing in Minneapolis, improve the youth development center and develop an agricultural facility.
Division of Indian Work: $2.5 million to build a new facility with programming on 10th Ave. S. in Minneapolis.
Minnesota Indian Women's Resource Center: $4.2 million to renovate a facility on S. 15th Ave. in Minneapolis for Indigenous women and family housing and programs.
AIOIC: $35.4 million for a new facility and campus in south Minneapolis to provide education and employment opportunities, including adult primary education, vocational training, placement, and the Takoda Prep Alternative High School.
American Indian Development Center: $6 million to design an inpatient opioid treatment center for Native Americans in Minneapolis or St. Paul.
American Indian Community Center: $6.2 million to the Montessori American Indian Child Care Center to develop the St. Paul center to house the American Indian Family Center, Interfaith Action Department of Indian Work, Montessori School, and a little company.
Video source: KARE11
Titled: Remembering a founder of the American Indian Movement
Contents: Clyde Bellecourt, a White Earth Anishinaabe Minnesota activist who co-founded the American Indian Movement and helped launch several non-profit services.
At the committee hearing on Tuesday, R-Grove City Rep. Dean Urdahl said, "there are a lot of good projects here," but demand totaled "a good chunk of change." He asked Hobot what the groups' priorities were if not everything could be funded.
Hobot listed five priorities: the American Indian Center in Minneapolis, the Indigenous Peoples Task Force, the Ain Dah Yung Center, the Wakan Tipi Center, and the MIGIZI facility. He said if the Legislature approves the funding, construction could begin this summer.
The capital investment plan proposed by DFL Governor Tim Walz includes the bulk of the funding for these five projects as part of his "bond equity" initiative. The governor intends to use cash from the general fund rather than borrow to cover costs.
But whether Walz's plan and advocates' hopes will bear fruit will likely remain uncertain until May's final days of legislative session negotiations.
Hobart said many organizations have raised private funds or secured federal funding to cover some project costs and $60 million. If the Legislative Assembly funded the five priorities for about $15 million, the additional funds would be allocated pro-rata basis for the other projects.
What can you do to assist AIFC and the 16 non-profits that make up the UILI reach its goals?
Bill Numbers SF 3648 and HF 3918
Click to View Urban Indigenous Legacy Initiative Fact Sheet / One Pager
Click to View Urban Indigenous Legacy Initiative Booklet
Click to View Urban Indigenous Legacy Initiative Project Description
How can you support our work?
Reach out to your elected officials and ask them to support our bill. https://www.leg.mn.gov/leg/legdir
Share our community work on your social media accounts https://linktr.ee/AIFCMNORG.
Share social media postings on our AIFC Facebook page: https://www.facebook.com/aifcMN
Share our testimony at the Capitol Investment Committee Hearing to your networks https://youtu.be/th5VsKqdJLU.
Share our testimony at the House Workforce and Business Development Finance and Policy Committee: https://www.house.leg.state.mn.us/hjvid/92/895399?
fbclid=IwAR1YwRy_S5ffw8zFFtS40NWwsqqfZiOM6PLA1UsvcA35XY22KjUT1Qrr7lA
Share news coverage of the Rally at the Capitol Friday
It's a meaningful time for us all, and we appreciate your help,
The AIFC Team
Miigwech, Pidamayaye, Pilamayaye (thank you)